On his widely read blog this week, Web Strategy by Jeremiah, Jeremiah Owyang of Forrester talks about the coming ages of the social web. It's an excellent post and you should read it. He discusses the coming age when websites will be able to offer capabilities like social commerce. We here at Ripple6 agree wholeheartedly with Forrester that social commerce will change the face of the web as we know it. However, we disagree with them in one tiny area- the timing of this occurrence. That's because we believe that the Era of Social Commerce is upon us.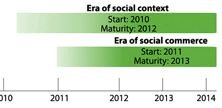 In the chart at right you can see that Forrester is predicting the Era of Social Commerce will begin in 2011 and reach maturity in 2013. Ripple6 believes that this assessment misses the mark because Ripple6 is offering Social Commerce products today. So while it may take 1 or 2 years for the market to mature, we believe that the advantages of social commerce will be so dramatic that online businesses will need to adopt social commerce into their sites merely to stay competitive.
Why will the ubiquitous adoption of social commerce happen so quickly? Because it will change the face of the online purchase experience for the consumer and create such a tremendous advantage for the websites that deploy it that it will force the competition to match them or go out of business.
Let us give you an example; you just bought a new book and the estore you purchased from suggests that you may want to join a reverse book club. What's a reverse book club? In an ordinary book club the club tells you which book to read and everyone discusses that book. In a reverse book club, you decide which book you want to read and then join a club based upon people who bought that book at the same time.
The social commerce site will connect you with the people in the community who share your tastes. With the next gadget you buy you are offered to join a club of people who've all purchased the same gadget at the same time. Everyone in the club can share their experiences, their knowledge and how they use the gadget. Ripple6 is offering this Smart Group technology to ecommerce vendors today. And when added to the already "baked in" high value social applications our system offers it creates an unbeatable social commerce capacity. (If you would like to discuss this technology for your ecommerce site contact us today.)
This technology will cause a revolution in ecommerce that will make the adoption of user reviews seem minor in comparison. User reviews first appeared on ecommerce sites about 2005, and in 2008 they were nearly ubiquitous.
The first websites to deploy social commerce technology will be live this year, and their competitors will need to jump on the bandwagon very quickly to have any hope of competing with game changing technology like this. We feel that social commerce will be such a great advantage that sites will be forced to deploy in 2010 in large numbers to stay competitive.
Therefore, while we agree with Forrester on their assessment of the coming changes, we feel that the time frame may be compressed significantly for the Era of Social Commerce.
How long do you feel it will take social commerce to be adopted by a majority of ecommerce sites? Please leave your comment below:
Image credit- we copied a small portion of the chart Forrester published for purposes of illustration. The original image is Copyright Forrester all rights reserved and can be found here: http://www.flickr.com/photos/jeremiah_owyang/3478041905/
blog comments powered by