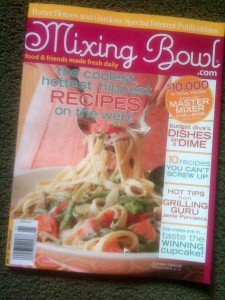 In an apparent first, a social network www.MixingBowl.com has launched a print publication – Mixing Bowl Magazine. The magazine is a special edition from Better Homes and Gardens Special Interest Publications and appears on US newsstands until August 25, 2009.
Mixing Bowl is a social cookbook, created by the makers of Better Homes and Gardens, and full of 100% User Generated Content. Better Homes and Gardens maintains an active presence on the site, but keeps their triple-tested recipes, which appear in the regular edition of their publication, separate from their social network – one which is truly a 'social cookbook'.
Users have certainly stepped up to the plate (the dinner plate) and dished up some great numbers! According to Compete.com, MixingBowl.com served over 2.1 million page views in July, spanning 200,000 unique visitors and over 40,000 members. Mixers have created 17,300 recipes and 500+ public groups since the sites launch earlier this year.
This is an example of a thriving online community being created and growing based upon an affinity for food. Is a paper spin-off of a successful online site the future of magazines? Perhaps, especially considering that a second edition of the magazine is slated for January, 2010.
What we do know today is that BH&G and the Mixing Bowl crew are doing something right. The site is growing quickly and people are finding what they want there.
NOTE: In Dec 2007 Dennis Publishing in the UK printed a Facebook "bookazine" which was a single printing. It wasn't intended to be a magazine. Mixing Bowl Magazine's future is yet to be decided but it is definitely the first social website to print it's own magazine as an offline companion to the online site.